Pricing
At Jollor, we know that every social media team is different. That's why we offer a build-your-own plan, starting at $5 a profile with a two person team.
What does this mean?
This means that you can connect your first Page for a fiver, and each additional Page for $5 more and so on.
For example, if Sam wants to connect and manage his Facebook, Twitter and Instagram accounts, he'd pay $15. Sally wants to connect and manage three Facebook Pages, so she'd pay $15 as well. Ed wants to connect two Instagrams, a LinkedIn, and a Vkontakte. He ends up paying $20 for the four accounts. Sam, Sally and Ed automatically begin with a two person team.

(Note: You can choose one account or create any combination of accounts ranging from Facebook, Twitter, Instagram, LinkedIn, YouTube, to VKontakte)
If any of the above users needed to add another person to their team, each member would cost them another $5.
What about the add-ons?
To make your projects even more personalized, Jollor offers add-ons that can be purchased at $5 of 5. These add-ons include Facebook Pages you can connect and monitor or Twitter handles that you wish to follow. We also offer keywords or phrases that you wish to monitor on Twitter, Instagram and YouTube at the same price.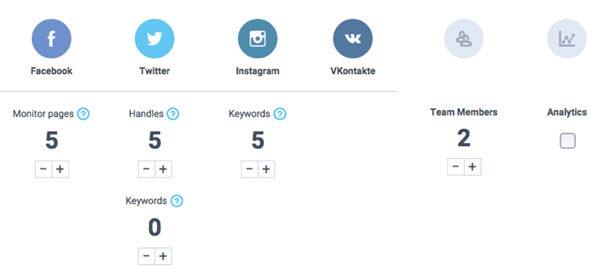 Basically, you can create your perfect plan at the price point that best suits you.
All of our plans come with a 14 day free trial. After your trial expires, you can change your plan at any time. Changes will be prorated in the current billing period and will be reflected on the invoice in the following month.
If you have any questions, please contact us at info@jollor.com.